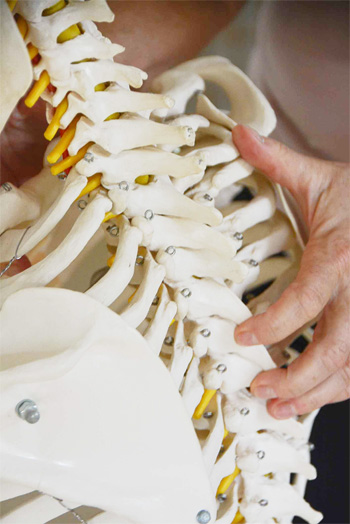 TOUCH TO INFORM
2-HOUR ONLINE SEMINAR
Saving Necks and Backs:
Discover your Thoracic Spine from the Inside
Solutions for Necks and Backs come when you involve the anatomical with the neurological and include in the process the potency habitual patterns have on our everyday actions and 'well-being' .
Review Anatomy of that little used thoracic spine. Review its' relationship to your neck and back.
Discover the neurological aspects in movement and in touch. Learn to use the connections between thought and action/ mind and body as you touch to engage your client's whole self to enhance outcomes.
Remember: each person is unique 'system' with unique learned patterns in movement and thought. Change a pattern in an action and change perception of one's potency to learn and enhance their own health.
Discover how Sensory Learning deepens your understanding of how you can create lighter, easier ways for doing what you love to do as you learn how TOUCH CAN INFORM
You will leave with:
A new look at your anatomy from the perspective of what is necessary for an efficient action.
A 'Knowing' about how the brain can change through New experiences.
A way of working that helps foster change in habitual patterns
FOUR steps for developing the 'skill' of A TOUCH that INFORMs
TOUCH TO INFORM
Seminars offer concepts and practical applications from the Feldenkrais Method® for healthcare professionals, educators and coaches in a way that enhances outcomes.
TOUCH TO INFORM Seminars focus on the neurological, mechanical and healing aspects of movement using:
Mindfulness to notice habitual movement patterns
A PAUSE to your repetitive ways of doing.
An Open MINDSET to explore new possibilities,
Tools that support your clients ability to discover the enormous capacity for new patterns of action with long lasting changes.
ASSUMPTION: Habits are useful in the moment, however, they can also keep us from moving forward into new possibilities!
Note: Currently the ONLINE COURSE is still in process!